This is one of several ancient posts, copied from my very old site just for fun, and updated here and there. This was originally written in about 2004, and includes tiny, poor-quality images typical of personal, pre-blog websites of the time.
This is not my resume, CV, or Linked In page. Instead it covers some highlights of my working life, work I've done at past companies, and the people with whom I've had the pleasure of working.
Pacific Petroleum Equipment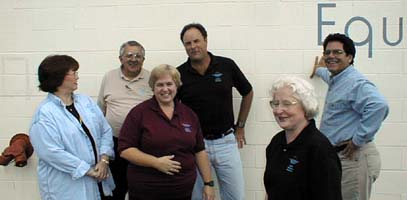 Pacific Petroleum Equipment (now under new ownership) was my family's business. I started out in outside sales, then did inside sales, bidding, and project coordination. Finally I worked up to Operations Manager – ran the warehouse, shipping/receiving, personnel, inventory, purchasing, database management, two relocations… It was fun work, mostly, with really good people (both the employees and the customers), but it started to get old after about 8 years.
IntelliCADD / IntelliCAD
After Pacific Petroleum Equipment, I joined IntelliCADD, in the marketing department of what was then a small drafting and third-party AutoCAD software company in La Mesa. Over time we focused more on software development. I moved into documentation, help systems, then into testing, programming and user interface (UI) development.
It was the team from this company that went on to develop IntelliCAD, an AutoCAD-compatible drafting package. It even included ADS, LISP, and 3D functionality – not to mention many improvements, like being able to work with multiple drawings at once. Oh yeah, our UI was much more user-friendly, and yet completely compatible, right down to the command line scripts.
One of the high points of my working life was watching the nice folks in the Autodesk booth go ashen the first time they saw an out-of-the-box third-party application run on IntelliCAD at a major trade show. They never thought we – a renegade little group in east county, would be able to do it.
Visio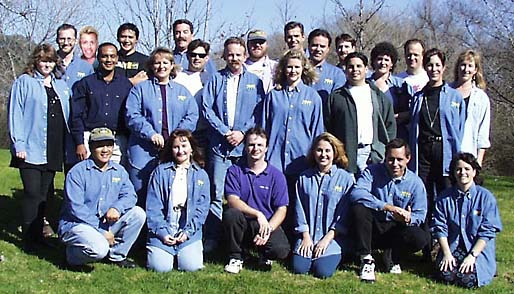 The IntelliCAD group, in Santee, after Visio purchased the project, including the original core group, plus documentation and test. IntelliCAD was (after a very long story I'm leaving for later) released as a Visio product.
RadishWorks

I designed and created game menus at Radish Works. We completed a series of 3 games that were published by Activision, and are still available at tack stores across the country – Extreme Rodeo, Extreme Bullriding, and Daily Racing Form Horseracing. The Rodeo game included of the more visually interesting help systems I've created – the "Rulebook" for the events – as realistic as possible.
---
Since then…
Since the time this was originally written I have worked as a Documentation Manager at Miva / Miva Merchant, Director of User Experience at Tilana Systems, Senior Experience Planner at Red Door Interactive.
In 2014 I shifted my focus to fitness and writing. You can find more about each of those at Fit Coach Linda and Shugyo Press, respectively.
You can find a more formal summary of my various careers here: Linda Eskin's profile on Linked In.