Note, I have published this on another of my sites (Grab My Wrist), but it more appropriately belongs here.
In the quiet hours before dawn 13 years ago I got a call from my friend Sandra. She lives in the community just up the hill from us. She could see flames to the north. The weather was hot and dry – common here in the fall, and perfect for wildfires. As horse people living at the edges of open space we were especially wary. My equestrian friends know to keep our eyes open, fuel tanks full, trailer hooked up, and rig parked facing the way out. In a fire there might not even be time to turn around.
The fire came right to the edge of our neighborhood, and we had to evacuate. Twice. The first time it was with embers raining down on us. Emergency services were overwhelmed. There was no warning, no orders to evacuate. We figured it out when we saw the fire top the hill behind us. We never even heard sirens. There was no help on the way. I think this is one of the things that was so unsettling for everyone who went through that experience. We like to think we have systems in place that will keep us safe. Nope. Not in conditions like this. We are on our own, and we have to look out for each other.
This was back before smart phones with cameras. Nobody was posting "I'm safe" updates on Facebook. There was no live online map. We had TV (utterly useless because of stupid reporting – which is still the case today), AM news radio (the only really helpful thing) with their news 'copter and listeners calling in updates, phones (sometimes), and each other.
Ultimately the Cedar Fire burned over 280,000 acres, destroyed over 2,500 homes and other buildings, and killed 14 people. [CDF Cedar Fire summary.] AND there were two other major fires in the county at the same time. If you want to learn more about the fires, see maps, etc. check out this CDF report: The 2003 San Diego County Fire Siege – Fire Safety Review. According to that report, "… the Cedar fire was estimated to have consumed 5,000 acres per hour within a 40-hour period."
During the rest of fall and winter that year every time it rained the air smelled like water thrown on a campfire. When the weather was dry and the wind blew there would be a gray haze of stale ash in the air. People and horses suffered respiratory issues. Flooding from water running off the bare soil was a problem.
It was scary and exhausting. We didn't lose anything, but still … When the light is right this time of year, or the wind blows a certain way, I still get jumpy. Mention the fire to anyone who went through it and you'll get stories. And they'll get a knot in their gut. The memories are fresh and raw.
One fall evening the following year I was out in the horse pen with Eeyore, our little donkey. He was a sensitive soul described by his vet as "highly emotional." He was trotting back and forth, glancing anxiously up the hill into our neighbor's yard. I looked, expecting to spot a dog or coyote, but couldn't see anything. Everything about Eeyore was saying "Look! Danger! We need to get out of here!" I finally understood what he was trying to get me to notice. Smoke! The neighbors were having a fire in their fireplace, and the smoke was hugging the ground and wafting between their trees. Poor Eeyore was sure it was happening all over again. I assured him things were OK, and that he was safe, but I knew where he was coming from.
A couple of weeks after the fire, when things calmed down and the flames were mostly out, I wrote about our experience. That was back before I had a blog. I posted it on my website, which I've since redone, removing the article. Here it is again, with a few [bits of new information] added:
The Cedar Fire, October 2003
Michael & Linda Eskin
(Written in early November, 2003.)
Now that things have calmed down a bit I can finally write up a summary of our fire adventure. I hope I got most of the facts right – between the chaos and the lack of sleep some parts are kinda fuzzy. Please forgive typos, etc. Things are still a mess here, so this was done in a hurry.
A photo of the El Cajon valley and surrounding mountains on Sunday evening – we did not take this photo, and do not know the source. If you have any information about it, please contact me, so that I can post proper attribution (or remove it, as the photographer sees fit):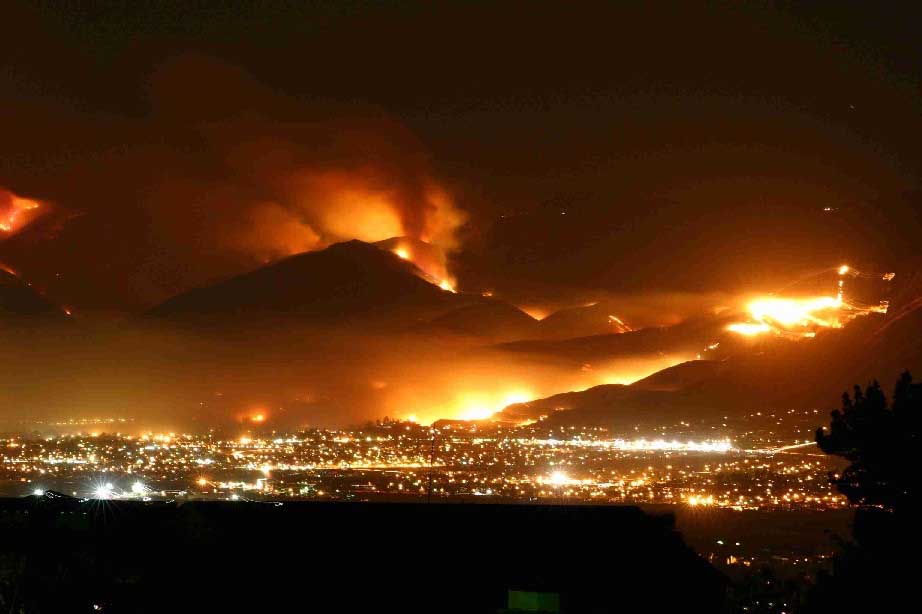 El Cajon Valley, Sunday, October 26th, 2003
[We live near the right-hand edge of the photo, at the base of that burning hill. Just above us is the community of Crest, where my friend Sandra lives. It's that bright spot that's on fire. Her house was saved.]
Our Story
Sandra, a friend from Crest, woke us up with news of the fire on Sunday at 4:30 a.m. – she could see flames from her back window. We checked the news, and found it was quite a ways off. She got down here with her animal carrier and bolt cutters, while I fed, topped off water, and made sure our halters and lead ropes were on the gate. She and I took off in my truck and trailer to see what we could do.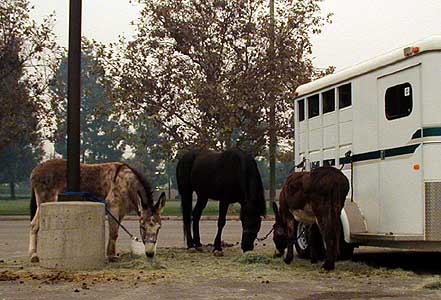 Wells Park in El Cajon, Monday Morning
[This was the morning after our first evacuation. These three were ours: Clementine, Sabrina, and Eeyore.]
We offered help to a few folks in Lakeside, but they were riding out 'cause their horses wouldn't load. We saw them later – they got out OK. We also had to pass up a donkey in a field, whose owner had told the others there that it was mostly wild – they couldn't even catch him. I heard later about a singed donkey, and I sure wish I'd at least given it a try – I'm pretty good with donkeys who "won't load". I don't know if he's the one who was injured, or not.
We heard Blossom Valley was on fire, and ended up taking two colts from there, as flames came down the hill across the road. Whoever handed them to us didn't know them, just said they went together. They loaded pretty well, considering – the baby walked in, and the yearling took a little shoving and placing of feet, but it only took about 5 minutes. Since the Lakeside Rodeo Grounds were full (and very chaotic), we took them to my place, where we thought they'd be safe.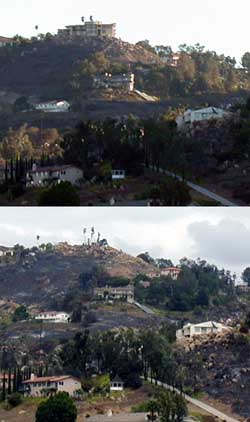 "Browns Castle," [a locally-famous mansion] before and after the fire.
The smaller one unloaded in a huge leap, and landed right on Sandra, who now has a small, but very colorful hoofprint on her leg. Michael got it on video, of course. LOL I think it was the first time the colts had seen donkeys, 'cause they looked at 'em kinda funny, but didn't get upset. In fact, the only thing that upset these guys, with all they'd been through, was after we finally got home, and I tried to fly-spray them. We were very lucky to have gotten colts (ungelded) who'd been worked with so well, and were so good-tempered. (The folks in the trailer ahead of us had gotten a very cantankerous pinto stud, with just a neck rope!)
An aside about what was happening County-wide … We've had no rain for 175+ days, on the heels of a long-term drought. We were in the midst of a Santa Ana, where dry (3-4% humidity) winds blow in from the desert. Prime fire weather. The general sense of the news reports was that there was no stopping this fire, and no help on the way, so you're on your own. Don't wait for announcements – no one is coming for you – just get out if you think you might be in danger. Entire neighborhoods were going up, with no fire equipment to be seen, and nothing ever mentioned in a news report. People were banding together to cut brush, put out spot fires, and save homes. When we got the colts home, and I called a few places to see where animals were being evacuated to, I was told they were so busy with the other areas that nothing was arranged in our area. Everything was stretched so thin there was just no way to deal with the magnitude of the situation.
We went up to Crest to check on Sandra's horses, but things looked better up there than they did here, so we left them for the time being. At least she has a big pipe corral – ours is plastic fencing. Shortly after I got back down the hill, she called saying her area was being evacuated. I tried to get back up there, but just as the sheriffs were moving the barricades aside they got word it was coming up from Harbison Canyon, and made me turn back.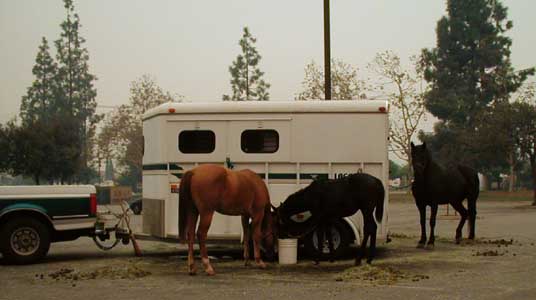 Two Colts from Blossom Valley
On the way down the hill I picked up a horse, and the guy who'd been leading him. His friends were all riding down the side of La Cresta Road (long, steep road with no shoulders, and the only way out, at that point.) I kept his horse here until his friends arrived, just as it was getting dark. They rode / walked down to the high school, and warned us to get out, 'cause the fire was headed our way.
Meanwhile, Michael packed up his car with all of his instruments, and he got all the important paperwork together. We rounded up the cats, including a neighbor's cat, and locked them in the house, just in case.
We fiddled for a while, discussing decision points and contingency plans, but when the fire crested the hill behind us we figured we'd better bail right now. I switched my computer off, grabbed the external drive where I back up my data. We shoved the four cats into two carriers – they don't get along, but they'd have to figure it out. Michael loaded his car with instruments, paperwork, and, the cats. Flashlights, check… Cell phone… Horse feed and meds, cat food… We each threw a few days of clothes in our vehicles. We grabbed whatever food was handy. Water was already in my truck.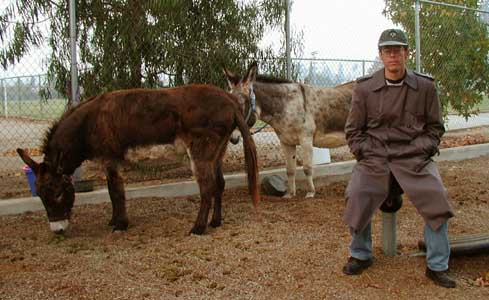 Michael, After a Harrowing 36 Hours.
[This was in the fenced playground of the Boys' & Girls' Club in El Cajon]
Sabrina and Clementine went in the first trailer load – Eeyore declined our invitation to get in the trailer, so we left him for the second load. We headed to Wells Park, in the middle of urban El Cajon, because the smoke was so thick. Plus, it was getting dark, and we couldn't figure out how to get into Granite Hills High School's fields. Just as well, since it was packed with motor homes and horse trailers, and it looked like they might have to be evacuated next.
Michael called my parents, who live in Pacific Beach, and they came right out to help. So did our friend Mark. My mom and Michael watched Sabrina and Clementine (who were tied to trees, pawing and gnawing on bark), while my dad and I went back to get Eeyore and the colts.
Eeyore hadn't wanted to go the first time, but now, with fire roaring down the hills behind us, a hot wind, and embers in the air, he rethought the situation. He's usually hard to catch, and hates trailers, but this time he was waiting at the gate, and stuck his nose right in the halter. He and I ran to the trailer, and he got right in. His first time loading into the front stall (without Sabrina already in the trailer). He didn't even flinch when I slammed the divider, and he waited quietly while we got the babies on-board. He was all but hollering "Drive, already!" Smart donkey. Difficult, but smart.
The bigger colt didn't want to load. Can't blame him … But it was getting downright scary, and my dad was starting to wonder if maybe we should just put him back in the pen and hope for the best. As a last resort, I got behind the colt (who was still calm, just not loading), and blasted him in the butt with water from the hose. (It was hot out, so it wasn't like he was going to get chilled.) After about 20 seconds of indignation and dancing around, he jumped in the trailer, and we shut the doors.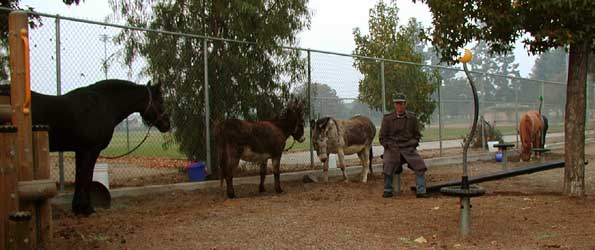 Safe Harbor at the Boys & Girls Club
At the park, after trying a few things, we ended up with everyone tied to they trailer ('cept Clem – she got a lamppost), and waited it out. Considering that we had an impatient mare, two donkeys, and two ungelded colts we didn't know, we had a pretty easy time of it. They did not paw or fuss (much). Sabrina thought the colts were the handsomest studs she'd ever laid eyes on [notice her gaze in the photo above], and spent the night flirting from her side of the trailer.
Mark helped with the critters at the park, and did a shopping run for water dishes for the cats, corn oil for Sabrina (especially important when she is stressed), and some food and water.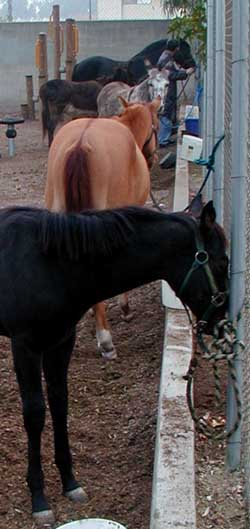 All five critters in the playground.
A neighbor of the park, Lorenzo, I think, a Nez Pierce Indian, with a soft spot for horses, came by to see if he could help, and ended up bringing us a big water jug so we could transport water (we only had about 20 gallons with us). People saw us camped out in the parking lot and brought us coffee, or offered to bring food (we'd packed enough apples and almonds for several days). An El Cajon police officer circled by to check on us a few times. A carful of teenagers who'd been evacuated from Alpine stopped by to be sure we were OK. Even the homeless people who live in the park were friendly and offered to help.
Once we got settled in, we let my mom and dad, and Mark, go home (around 1 a.m.). We slept (sorta…) in shifts, me, on the tailgate of my truck, and Michael in his car, making sure the critters didn't get loose, or tangled in their lead ropes, passing out handfuls of hay, bringing buckets around… We each probably got an hour or two of rest.
In the morning our neighborhood looked safe. All the hills above us had burned already. So, thinking the animals would be safer at home than standing on pavement in a parking lot, we went back, making two trips. As we were leaving the park, two guys in rec center t-shirts came over and offered to let us use the fenced play area behind the Boys & Girls Club. Turns out we were going to need it.
Just after we returned home, and were hosing down the yard in case any embers remained, CDF (California Department of Forestry) came by and evacuated the neighborhood again. This time it was "if the wind shifts" that we'd be in trouble, so it wasn't quite the same urgency as the first time. Nobody wanted to go, least of all Eeyore (who doesn't care for adventures), and Michael, who by this time was feeling pretty awful with the flu. We were all exhausted. Nevertheless … Off we went again.

Shadow Mountain, and Crestridge Reserve
[As seen from our backyard.]
This time we left the cats in the house, thinking their chances were pretty good, and knowing how miserable they would be, two to a carrier, back at the park. Again I left with Clementine and Sabrina, with Michael following in his car. This time we headed straight for the Boys & Girls Club. One of the guys there understood horses, and put us up in their fenced playground, which had about 1′ of wood chips for footing. After the parking lot, this felt like a resort. My parents came back out to help with the animals, so we could take a nap!
On the second trip, this time Eeyore figured he'd be better off staying in his pen. He heard some strange voices out front (neighbors filling water buckets for us), and decided he'd rather brave the fire. We could *not* get him near the trailer, never mind going in. My dad and I came back for him, and after a few rope burns, and getting dumped on the ground once, we gave up for the time being, and resolved to come back later for him.
The older colt (18 months) in the playground.When Eeyore is left alone, he doesn't hang out quietly. Instead, he runs the fenceline frantically, hee-hawing mournfully, in a panic. He probably would've been OK staying there, if he were a calmer sort, but I was afraid he'd colic from being upset (he certainly won't drink when he's like that). Besides, that kind of exertion in thick smoke is really bad for the lungs.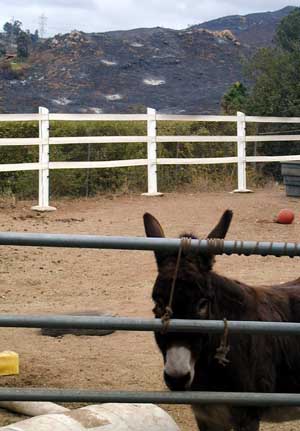 Eeyore in His Pen, with Charred Hillside
[The white spots are piles of ash where trees or larger shrubs used to be.]
We gave him a few hours to calm down, took a nap, and came back again. This time I asked my dad to wait out front, and be very quiet – just be there for safety's sake. I took some carrots to Eeyore, caught him, and convinced him we were just going for a nice friendly little walk. One… step… at… a… time… 200′ through the backyard. We got just through the front gate, where the trailer was, and Eeyore saw through the plot. Just as he was turning to head back to his pen I took a wrap with his lead rope around a fence post by the front gate. Ha! Then I closed and locked the gate. What they say is true about closing the barn in the fire, after you've gotten the horses out, so they can't run back in.
Once Eeyore was stuck in the front yard all it took were a couple of apples, some long ropes, and patience, and he was finally in the trailer. We got him back to the playground with his buddies, and could finally relax a little. Our friends Eric and Sarah came to help out (and brought food!).
Since the fire wasn't an imminent threat, Michael was able to stop by the house to check on things, and take a shower. Some neighbors of the Boys & Girls club came by to see if we needed help. They offered to let us use their phones, bathrooms, water, power… We were pretty self-sufficient for camping out, but I did take up an offer of a shower in a nearby vacant apartment – the managers, a very nice young couple, left it open all night in case we needed to use it.
Although the playground was fenced and relatively horse-safe, we kept the critters each tied to their own fence post. One flirtatious mare, two donkeys, and two colts could've have way too much fun in there running loose. As it was, they were digging to China in the deep wood chips. I left their ropes longer, and tied lower, than I knew was safe, but I knew they would all want to lie down – they'd all been on their feet for 36 hours. One of the colts did get tangled, and fell, but I got him loose within minutes (he just laid there and waited for help).
The Older of the Two Colts
Aside from a few more minor interruptions, we slept, on the picnic tables, on saddle pads from about 8 p.m. to 5 a.m. Many thanks to Mom, who brought sleeping bags and pillows!
I'm sure the folks in the neighboring apartment buildings must've thought dinosaurs had moved in, when the donks started hollering for breakfast at oh-dark-hundred. It really echoed between the buildings, too! We got everybody fed (soaked pellets – we'd run out of hay the afternoon before), packed our things, and cleaned the place up as best we could. Michael went out and brought back some sort of fast food breakfast, including fried french toast sticks, which we wouldn't have touched on a normal day, but gosh, was it good that morning. We were just leaving with the second load when the Club folks showed up for work. I want to send them a "Thank you for saving our asses" note, with a photo of Clem and Eeyore in their playyard, but probably ought to think of something more appropriate for the kids.
Michael has all his instruments back in order. I've got the truck and trailer washed, and the cat carriers brought in. We eventually got together with the owner of the colts – they'd been evacuated from Eucalyptus Hills once already before we took them out of Blossom Valley. At least they load good now! We took a heaping pickup-full of towels, blankets, pillows, tools, buckets, chairs, etc. to Crest, for the hundreds of burned-out folks there.
Tomorrow I'm hauling some friends' horses to their temporary home – theirs was one that burned. So far we know of one friend who was lost – Ashleigh Roach, an Irish dancer. Michael played at her wake. Many friends lost their homes – at least 4 in Crest, 3 in Harbison Canyon, 1 on Mussey Grade Road, the Roaches, in Valley Center, one friend lost her ranch in Lakeside, and her ankle was broken when one of her draft horses stepped on her. I'm sure we'll hear about more – many areas don't have power or phone service yet. Many others lost outbuildings, fences, vehicles… Most of our State Park facilities are gone, including the Los Caballos and Los Vaqueros horse camps. [The impact of this fire on the equestrian community was huge. People were still recovering physically, financially, and emotionally for years. Some moved away. Many of us tried for over a decade to get access and trails and facilities restored for public use, with limited success.]
If you weren't here, or don't know the area, it's hard to imagine the scale of this disaster. Everywhere you go, all the hills are burned – not just patches where there was "a fire". Out back, the hills near us are black, and the hills in the distance, and the mountains beyond them. It was (is, actually, it's still burning) the biggest fire in California history, and it moved unbelievably fast through nearly every community in East County.
A lost hunter started the Cedar Fire by lighting three signal fires in dry brush during a Santa Anna. He was rescued by helicopter, and was issued a citation.
Copyright © Linda Eskin, 2003, 2016
Update, 9 Nov. 2003 …
Helped a friend clean up her burned-out horse boarding facility. She has several steep banks, and lost all the iceplant and mulch that was helping to hold them in place. She is also having trouble getting any help. There are a lot of groups collecting money "for fire victims", but several burned-out people I've spoken with are being refused help everywhere they turn. Should be interesting to see how these millions are accounted for when this all calms down.
Update, 12 Nov. 2003 …
This morning we got just over an inch of rain. That's great for our yard, but a bit much for the fire damaged areas. There was a flash flood watch this morning. I hope people's straw bales and sandbags are doing the trick. (The local news stations keep calling them "hay bales" <sigh>.)
For more info on the state of things here…
[At the time I posted links where people could find up-to-date information. Lists of links were a thing back then, because Google wasn't. Most are broken now, so I've omitted them here, but kept the heading so you can see how things were then. ]
Channel 10 News – Slideshows with hundreds of photos:
(Anything that mentions El Cajon/Granite Hills was in our area.)
Our local paper:
http://www.signonsandiego.com/ [The old direct link to fire info no longer works]
Photo galleries:
[There were galleries of hundreds of photos from throughout the county.]
Information of some of the people who were killed:
[Broken links.]
About Ashleigh Roach, the Irish dancer who was killed:
[Link no longer works]
Local equestrian sites, reuniting horses and owners:
[Horse clubs did tons of work caring for displaced animals and getting people connected.]
http://www.pvra.com/
http://www.polobarn.com [It was this site that helped us find the owners of the two foals we rescued.]
The local TV stations were virtually useless. They covered the areas in the City of San Diego, rehashed info about what had already happened and showed dramatic footage, while whole communities burned with no mention on the news.
KOGO Radio (600 AM) did a *tremendous* job getting information out about which way the fire was headed, where people could go, etc. They relied on listeners to call in with updates.
The Boys' & Girls' Clubs of East County, El Cajon center, took us in on Monday. They provided a safe, fenced area for the animals, and a safe place for us to camp out for the night. Their kindness and hospitality was very much appreciated. If you are looking for a good cause to support, please consider giving to them – it's clear they do a lot of good work on a shoestring budget: http://bgcec.org/ <<< [This is the current link.]